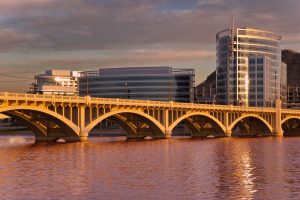 Tempe has been named one of the best places to live and work, making Tempe commercial real estate in demand. Home to one of the largest universities in the country, Tempe provides something for everyone. If you're looking for the best place for commercial real estate, Tempe may be the place for you.
Growing by the thousands each year, Tempe has become mecca for events, restaurants and businesses over the last decade. Tempe commercial real estate has grown substantially. This is due to record enrollment at Arizona State University and graduates who continue to make Tempe their long-time residence. Each year more than 1.8 billion dollars is spent by ASU students and employees.  This is ideal for local businesses and creates steep demand for Tempe commercial real estate.
Tempe continues to support this growth through new land development for luxury apartments and condos, investing in the expansion of the city. In addition, Tempe keeps things exciting by hosting several mainstay events each year. Here are a list of several events coming to Tempe in April and May:
2015 Pat's Run – April 25, 2 015
Since its inception in Tempe in 2004, this event continues to draw thousands of people from everywhere to honor the life of  veteran and Phoenician Pat Tillman.
MOTOWN THE MUSICAL – April 21-26, 2015
Presented at ASU Gammage, one of Tempe's premier theatre and concert venues, Motown the Musical is sure to delight in classic music, dance and song.
The Night Run 5K, 8K and Kids Dash – May 9, 2015
Starting at Tempe Town Lake and finishing at Tempe Beach Park, this event is for the entire family and benefits Tempe Center for the Arts Foundation. Stay late and enjoy the shops on Mill Avenue in Tempe.
Live Music at Tempe Marketplace – Weekly
Upcoming lineups include:
3 local bands and musicians as part of the New Times "Saturday Sounds" – April 18, 2015
KISS Alive – band who plays in tribute to the rock band KISS – April, 25, 2015
The Everyday Players – an acoustic guitar/percussion duo playing a combination of classic and contemporary covers and originals – April 25, 2015
With all of this activity, placing your business in the heart of Tempe makes sense! At the Menlo Group, we can help you find the right Tempe commercial real estate to grow or start your business. We love Tempe and soon you will too. Contact us at 480.659.1777.