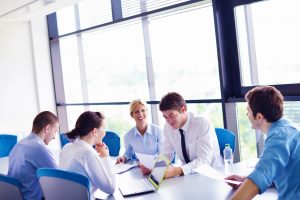 Menlo Group's real estate advisory team works hard to make sure you are well informed through every step of the buying/selling/leasing process. Good negotiation skills are an essential part of making sure you get what you need and want out of a real estate deal. Aside from watching some of the entrepreneurs on Shark Tank negotiate their way to winning, here are some tips from our real estate advisory pros that will help you:
Be confident. State your desires with strength and confidence.
Do your homework. Brush up on all the details of your property. Know its value. Knowledge is power. Knowing a bit about the background of the other party or parties, is useful, too. Additionally, when entering any relationship, knowing what's important and motivates the other party can help you communicate better with them.
Be realistic. Just because you think your property is worth it, doesn't mean a buyer will agree with you.
Offer quality. A property in disrepair won't get premium offers. Make the investment to keep your real estate location in good condition.
Maintain a big-picture outlook. Don't obsess over getting the best deal for yourself. Keep your emotions in check. Is a small detail is worth losing out on closing the deal?
Overcome obstacles. If you get to a stalemate, change the focus and solve less complex issues. Then go back to the difficult ones. The process will become easier once you have worked through the simpler ones.
Keep your perspective. Whatever the outcome, if you have made a reasonable deal and both parties are happy, then you have succeeded.
Negotiation is a key part of the commercial real estate transaction process. If you are looking for support to get the best deal, our team at the Menlo Group has you covered. Our real estate advisory professionals know what it takes when it comes to the negotiation of a contract. We have much experience achieving satisfaction on both sides of the deal and can help you get what you need. Contact us at 480.659.1777 or  info@menlocre.com