Designing a dental space that your patients will love can help make a visit to the dentist much more pleasant. With all due respect to dentists, not everyone looks forward to getting their teeth worked on. You can be the nicest, kindest, gentlest dentist, but…well, you know.
But, think about it…how cool would it be to have a themed office? Or at the very least, some fun features to help distract patients and make them more comfortable when they are having dental work done?
We've seen the trend of updating dental décor really take off in the last several years. Pediatric dentists have led the way with how they try to appeal to their young patients. So, what do these dentists to design their dental space? We've seen waiting rooms adorned with video games, computers, train tables, and kid-sized play kitchens. We've also seen offices with exam rooms that are each uniquely themed. For example, one room was decorated with an "under the sea" motif; another resembled a barnyard scene. Another dentist, who specializes in dentistry for teens, has designed his dental space like a '50s diner complete with a counter and bar stools (like the old fashioned soda fountains), a jukebox, and music videos playing on mounted TV screens. A totally tricked out blast to the past.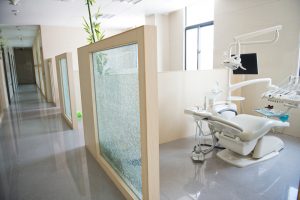 Dentists for adults can make the patient experience enjoyable, too. An dental space with a sleek and modern décor, refrigerated bottled water, and TV screens in the exam room to provide distractions while teeth get cleaned can help ease any anxiety that a patient may have. At the very least, patients who don't mind the dentist can feel like they're having a little "me time" while relaxing in a reclined chair and watching Live with Kelly and Michael. Adults are also impressed with the latest in advanced dental technology, so that, of course, is an important component to your practice, as well.
Of course, the most important part of dentistry is providing outstanding care for your patients. Ultimately, that is why your patients come to you. But having a unique dental space to go along with your expertise and your comforting "dental chair-side" manner can undoubtedly ensure that your patients will keep coming back. And, they'll most likely send referrals your way, too!