Commercial real estate Tempe AZ…lots of opportunity and a great place to relocate your business! Tempe is located in the center of the Greater Phoenix Metropolitan Area, so it's an easy commute, especially with the area's great transportation system and light rail. Just 10 minutes from Sky Harbor International Airport and a short jaunt to downtown Phoenix, Tempe's location is tough to beat.
At the Menlo Group, we think setting up shop in Tempe has so many advantages. Commercial real estate Tempe AZ is abundant. With opportunities available in business parks, the Mill Avenue District, and all around town, there is a place for everyone in Tempe.
Tempe has a thriving business climate. Companies large and small reside in commercial real estate Tempe AZ locations including Wells Fargo, Honeywell, Safeway, and Insight Computers. Some of the core industries in Tempe include Finance, Insurance, and Real Estate; High Technology; Manufacturing; Retail; Education; and Tourism.
There are plenty of ince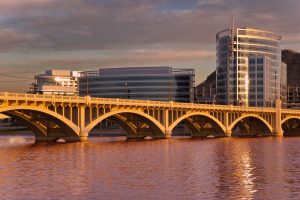 ntives to look for commercial real estate Tempe AZ. For example, the Arizona Commerce Authority provides incentives such as the Quality Jobs Tax Credit Program, Renewable Energy Tax Incentive Program, Job Training Program; and the Foreign Trade Zone Program. As well, in 2014, corporate tax rates decreased to 4.9 percent, and there was a reduction in commercial property taxes by 10 percent. If that's not enough, consider this: the state of Arizona has no business inventory tax, no corporate franchise tax, no sales tax on manufacturing, and no income tax on dividends from out-of-state subsidiaries.
Tempe is an attractive place to work, too. Approximately 150,000 people are employed in Tempe, a city with just 161,000 residents according to 2010 Census figures. The average commute for employees is a mere 20 minutes.   Popular attractions in Tempe include Tempe Town Lake, Mill Avenue, Arizona Mills outlet mall, and of course, Arizona State University, home of the Sun Devils. There's nothing like the energy of a game at Sun Devil Stadium!
Speaking of ASU, Tempe houses the main campus of the university where 65,000 students are earning Bachelors, Masters, and Ph.D. degrees in such schools as the Ira A. Fulton School of Engineering, College of Education, College of Law, and the W.P. Carey School of Business. (Side note: many of us at the Menlo Group have degrees from ASU… Go Devils!).  Tempe is also home to the Maricopa Community College system, as well as several outstanding trade schools.
Have we convinced you yet that commercial real estate Tempe AZ is a great place to relocate your business? At the very least, we think it's worth your consideration. Contact us at the Menlo Group, and let's talk Tempe!